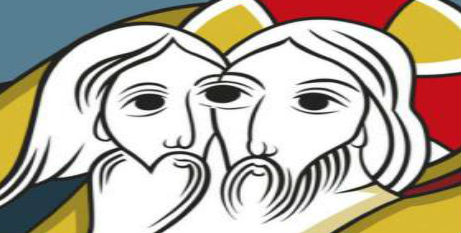 "No one can be excluded from the mercy of God," the Pontiff said, announcing the Jubilee of Mercy, which begins on December 8. The website, Jubilee of Mercy, contains many resources, including the logo, the prayer, and updated news, and can be found here. (Image: Courtesy The Vatican)
Vatican picks music by English composer as Year of Mercy hymn
The Vatican has chosen a composition by English composer Paul Inwood to be the official setting for the hymn of the Holy Year of Mercy, reports The Tablet.
The setting by Mr Inwood, a Catholic, was judged the best entry in an international competition organised by The Pontifical Council for the Promotion of the New Evangelisation and judged by a committee that included Mgr Massimo Palombella, Director of the Sistine Chapel Choir.
The hymn, which is available in Italian, English and French, has been recorded with the Sistine Chapel Choir and the support of Vatican Radio.
The text, which runs to four verses, has a Latin antiphon and refrains.
Mr Inwood, a former Director of Liturgy for the Diocese of Portsmouth, said that his setting was inspired by music from the Taizé Community, the ecumenical monastic order from France that uses a contemplative, repetitive style of music to enhance prayer and meditation.
Of his setting Mr Inwood said: "I deliberately kept the music very simple so that even the smallest parishes can hopefully make use of it."
FULL STORY Vatican picks music by English composer Paul Inwood as official Year of Mercy hymn
Prayer of Pope Francis for the Jubilee
Lord Jesus Christ,
you have taught us to be merciful like the heavenly Father,
and have told us that whoever sees you sees Him.
Show us your face and we will be saved.
Your loving gaze freed Zacchaeus and Matthew from being enslaved by money;
the adulteress and Magdalene from seeking happiness only in created things;
made Peter weep after his betrayal,
and assured Paradise to the repentant thief.
Let us hear, as if addressed to each one of us, the words that you spoke to the Samaritan woman:
"If you knew the gift of God!"
You are the visible face of the invisible Father,
of the God who manifests his power above all by forgiveness and mercy:
let the Church be your visible face in the world, its Lord risen and glorified.
You willed that your ministers would also be clothed in weakness
in order that they may feel compassion for those in ignorance and error:
let everyone who approaches them feel sought after, loved, and forgiven by God.
Send your Spirit and consecrate every one of us with its anointing,
so that the Jubilee of Mercy may be a year of grace from the Lord,
and your Church, with renewed enthusiasm, may bring good news to the poor,
proclaim liberty to captives and the oppressed,
and restore sight to the blind.
We ask this through the intercession of Mary, Mother of Mercy,
you who live and reign with the Father and the Holy Spirit for ever and ever.
Amen.
© Copyright Pontifical Council for the Promotion of New Evangelization, Vatican State. All rights reserved.