Anointed and Sent: A Vision for Australian Catholic Youth Ministry
Anointed and Sent provides a vision for ministry with young people aged 12-30 in Australia. It calls the Church to accompany our maturing disciples throughout their school years and into adulthood, to find their vocation and place in the Church and world.
This is a framework for current and future ministry. It focuses on 'Why do we engage in ministry with young people?','rather than seeking to provide what could only ever be a sample of the many different answers to the question, 'How do we engage in ministry with young people?'
Catholic Youth Ministry seeks to involve young people within the whole faith community, expressing and understanding who we are as Church, in our relationship with God. This vision statement is a call to the entire faith community to be in ministry with young people.
Anointed and Sent provides Catholic youth ministry with three goals:
• To foster the personal and spiritual growth of each young person
• To draw young people into responsible participation in the life, mission and work of the Catholic faith community
• To empower young people to live as disciples of Jesus Christ in our world today.
Office for Youth
Australian Catholic Bishops Conference Office for Youth is to encourage and support the:
• Catholic faith formation of young people and their full participation in the life of the Church as identified in Anointed and Sent: An Australian Vision for Catholic Youth Ministry;
• Personal and professional development of youth ministers, and the operational effectiveness of youth ministry, in Australia;
• Networking across all sectors of the Church engaged in youth ministry, including dioceses and parishes, schools and universities, religious institutions, communities, groups and movements;
• Organisation of regular national and international events for young people and youth ministers, in particular Australia's participation in World Youth Days and the Australian Catholic Youth Festival.
E: This email address is being protected from spambots. You need JavaScript enabled to view it.
Australian Catholic Youth Festival
The Australian Catholic Youth Festival is a national gathering of Catholic young people established by the Australian Catholic Bishops Conference. It exists to provide young people with opportunities to deepen their relationship with Jesus, be empowered to be disciples in the world today and encounter and celebrate the vitality of the Church in Australia.
During the Festival, young people have the opportunity to participate in a range of workshops and prayer experiences, visit the Expo and marketplace, meet young people from across Australia enjoy music and worship with musicians from Australia and beyond, meet with Bishops to engage in dialogue concerning a wide range of topics and much more. A central feature is the plenary sessions, which gather together all participants for music, catechesis and more.
The first Australian Catholic Youth Festival gathered more than 3400 people in Melbourne during December 2013.
World Youth Day
World Youth Days have become a major youth ministry event and have become a key initiative for Australian Bishops to connect with young people. Youth from all over the world gather and celebrate the event every two or three years at different locations. It is a whole week of festivities, fun and spiritual enrichment. Pilgrims at WYD become not only a witness to the people of the host city as they gather peacefully for the faith, but also a sign of hope for the whole world.
WYD 2016 is the 15th International World Youth Day and is to be held 25 to 31 July 2016 in Krakow Poland. WYD 2016 provides the opportunities to experience WYD, visit the local attractions and sights in Krakow as well as sharing the spiritual experience with other Pilgrims.
WYD has over the years provided Australia with a number of important youth ministry experiences and examples. These include the need to gather and celebrate the life of young people in our communities, and to show young people they are not alone in their faith in Jesus Christ. WYD is a great model for youth ministry. It has impacted Australia not only through hosting the event, but also through ongoing participation over the last 15 years.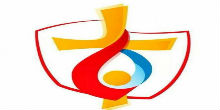 The official logo and prayer for World Youth Day 2016 were unveiled in the event's host city — Krakow, Poland — on July 3, 2014 by the city's Archbishop, Cardinal Stanislaw Dziwisz. The logo and prayer focus on the theme chosen by Pope Francis from the Gospel of Matthew: 'Blessed are the merciful, for they will receive mercy.'
A preview of World Youth Day 2016 in Poland?
Just in from Fr Marcin in Warsaw, who wrote to Catholic Australia:
Hi I'm a Roman Catholic priest and a teacher in a secondary school in Warsaw in Poland (in UE).
I've prepared with pupils from that school a music clip about hope.
One of the pupils wrote wrote and composed the music, others song and still others danced.
Could you put this clip on your web site?
Sure can, Fr Marcin... so everyone, here is The Hope. This music clip was prepared under the auspices of the Roman Catholic Parish of St James the Apostle in Warsaw in collaboration with Juliusz Słowacki 7th Secondary School in Warsaw.
The latest on World Youth Day here.
Visit the ACBC's World Youth Day website here.
World Youth Day 2016 from the Archdiocese of Melbourne here.
World Youth Day 2016 from the Archdiocese of Canberra-Goulburn, here.
Catholic Youth Ministry Brisbane, here.
Catholic Youth Ministry Perth, here.
Archdiocese of Adelaide, here.
Tasmanian Catholic Education Office, here.
World Youth Day, Darwin Diocese, here.
Diocese of Broken Bay World Youth Day page, here.
The ACBC Office for Youth can be found here.